Costas Tsielepis & Co was founded back in 1978 by Costas Tsielepis, a Fellow of the Institute of Chartered Accountants in England and Wales (ICAEW), with over 50 years of experience in Cyprus and the UK and an ICPAC registration number of 41.
Since then, it has evolved from a small accountancy practice with two clients to a highly respected and multidisciplinary organisation through vision, innovation and hard work.
Today, it offers Tax Advisory, Audit & Assurance, Business Consultancy and Risk Management & Corporate Governance services to clients and associates in Cyprus, Europe, Russia and the CIS and worldwide.
The firm based its success on true and unwavering commitment to its clients and has built a client base that is as diverse as it is loyal.
Operating from Cyprus, the firm maintains immediate and direct access to Cyprus' highly-attractive tax and corporate regimes, while at the same time, it is situated on the stepping stone to Europe, the Middle East, Asia and Africa.
The firm maintains strong and durable relationships with the island's key public and private organisations, professional bodies and decision makers and is frequently consulted in industry policy making decisions.
Our mission is to serve our clients. This is achieved through personalised advice based on thorough research, knowledge, experience as well as a fundamental understanding of our clients' needs. Exceeding expectations is too subjective. Producing results is what counts.
SOCIAL AND ENVIRONMENTAL RESPONSIBILITY & CORPORATE GOVERNANCE
We consider Social Responsibility as a duty every organisation has to perform so as to maintain a balance between the economy and the world we live in. A trade-off always exists between economic development on the one hand, and the welfare of society and the sustainability of our environment on the other. Social and environmental responsibility means sustaining the equilibrium between the two. This responsibility can be passive, by avoiding engaging in socially or environmentally harmful acts, or active, by performing activities that directly advance social and environmental goals.
We strive to demonstrate cultural, communal and environmental sensitivity not because we have to but because we want to.
MESSAGE FROM THE MANAGING DIRECTOR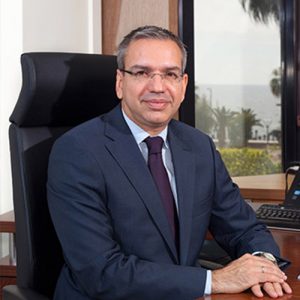 Dear Friends,
As I look at the history and evolution of Costas Tsielepis & Co from 1978 when it was first established to the present date, I can't help but feel gratitude.
Gratitude to the founder of the group, my father Costas Tsielepis, for his vision, tenacity and hard work.
Gratitude to the firm's management and staff for their professionalism, enthusiasm and perseverance.
But most importantly, gratitude to our clients and professional associates for their trust, loyalty and friendship.
At Tsielepis, we base our success on three main levers: services superiority, operational excellence and client intimacy.
To be successful, you have to at least equal everyone else in two areas, and be a leader in the other.
We are proud of the breadth and depth of our services and we have worked long and hard to achieve operational excellence. We will work even harder to ensure consistency and quality in both these areas.
Clients however will base their decision to work with an organisation, not so much on services or operations, but on the depth of the relationship with their service provider. We fully appreciate that a long-standing professional relationship can only be realised through sustainable results and benefits.
Our intimacy with our clients assures we understand their business and aspirations. We work alongside them, openly and actively, with the sole purpose of helping reach their goals.
We are successful because we go the extra mile to really get to know our clients and work with them to build their business, and ours.
There are no big crowds, no strangers and no delays on the extra mile. We like going there, and our clients like it too.
I look forward to hearing from you.
Warm regards,
Our purpose may be to help you form and run your business, but our business, is people.
After all, without people there would be no business to run.
COME IN AND MEET OUR KEY STAFF.
Click on images for short biographical notes.